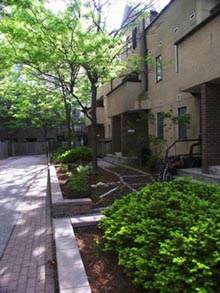 Walkway through the inner courtyard
"When I saw this nice bright apartment, I knew I had to live here."
- Arthur, Member
Apply to Live at Oak Street Housing Co-op
The Oak Street Co-op celebrates the diversity of its membership. It is committed to creating a community free from discrimination under the Canadian and Ontario Human Rights Codes.
Application for membership will be based on the following criteria:
Commitment to co-op principles and a willingness to participate in the co-op's decision-making and meetings. For example, members are expected to attend members' meetings, serve on committees or the Board of Directors or volunteer to take on other tasks.
Demonstrated financial responsibility.
Indication of permanency or long-term residency in the co-op.
Potential to be a good resident who will maintain co-op property in good condition.
Potential to be a good neighbour who will live co-operatively with and respect the rights of others.
Positive attitude to living in a community with people of diverse social, economic and cultural backgrounds.
Household income and size meet the requirements of the co-op. Members must be able to afford housing charge (rent) or prove that housing charge assistance is available to them. The size of the household must be within the occupancy guidelines.