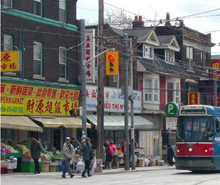 East Chinatown – just across the bridge
The City of Toronto, on its official website, states: "Toronto is heralded as one of the most multicultural cities in the world and is ranked as the safest large metropolitan area in North America by Places Rated Almanac."
Our Neighbourhood
The Co-op is surrounded by many unique and vibrant neighbourhoods, which offer a variety of businesses, shops, restaurants and activities.
One of the most exciting community revitalization projects is taking place in the neighbouring Regent Park. Regent Park Revitalization will transform the Park into a mixed-income community including townhouses and apartments, condominiums and co-ops, and commercial properties. It will be a green community featuring sustainable designs and environmentally friendly technologies.
Neighbourhood links
Oak Street Co-op is close to some of Toronto's older neighbourhoods and ethnic and cultural communities.
Moving to Toronto?