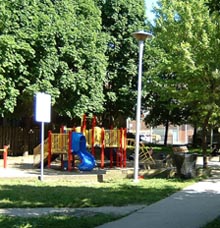 Children's playground
A children's playground and a busy basketball court are located next to the co-op in Oak Street Park.
Step 3 - Interview Process
You will be contacted to attend a membership interview. Two people from the Member Selection Committee will interview you. All household members 16 years of age and over must attend the interview.
The interview team recommends to the Member Selection Committee to accept or reject your application. Sometimes, the team recommends a second interview. This usually occurs if a unanimous decision cannot be reached or because information on the application or in the interview is not clear. If a second interview is recommended, two different members of the committee conduct the interview.