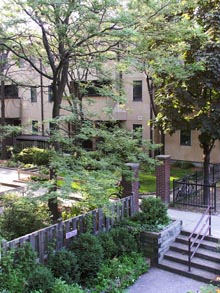 The Co-op Center, looking towards the inner courtyard
"It's hard to remember that I live so close to downtown because it is so quiet and peaceful here, not to mention all the trees and colourful gardens." "

-Margaret, member
Oak Street Co-op Policies
Web Use Policy
The purpose of this website is to provide information about the Oak Street Housing Co-Operative.
We respect the privacy of individuals who visit this website or communicate with the Co-op. We do not use cookies to collect personal data on those who visit this web site. We are against spamming and we do not send unsolicited e-mails of any kind. Any personal information provided to us - including names, addresses, telephone numbers or e-mail addresses - will not be released to any entities or individuals outside Oak Street Co-Op.
This website contains links to other sites. Please be aware that Oak Street Co-op does not claim any responsibility for the privacy practices of such other sites. Links to other websites should not be considered an endorsement by the Oak Street Co-op.
Java Script is used only to enhance interactivity.
For safety reasons, this website does not identify co-op members by using their full names and does not include pictures from which members or their children can be clearly recognized.
This award-winning web site is created and maintained by the volunteer members of the Web Committee. These volunteers are members of the co-op.
Accessibility
The Oak Street Housing Co-Op strives to provide an accessible website. In the spirit of inclusiveness, the following design features have been incorporated:
Pages are set-up in division tags rather than tables
Alt tags are used on images
Title tags are used on hyperlinks
Abbr and Acronym tags are used to describe acronyms and abbreviations
Text to background contrast ratio is at least 4:5:1
Hiring Policy
Oak Street Housing Co-operative believes in equal opportunity in employment practices without discrimination on the grounds of race, religious beliefs, colour, gender, sexual orientation, physical disability, mental disability, ancestry, place of origin, age, marital status, source of income or family status.