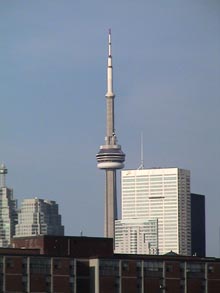 Cityscape view from an eighth floor apartment.
"Oak Street is as diverse as the city we live in."

- Linda, Member
Step 6 - Waiting List
If no unit is available after the acceptance of your application for membership, your household will be placed on the appropriate waiting list, defined by size and type of unit. Your place on the waiting list is determined by the date your application was received by the co-op. If a number of applications are received on the same day, placement on the waiting list is done by lottery.
It is hard to predict how long you will be on the waiting list before a unit becomes available. It depends on the number of households waiting for the same size unit, your place on the list and the number of those units that become available. In some cases, the wait could be over a year. The time could be less in circumstances such as when people on the waiting list cannot move to an available unit, or they don't want that particular unit.