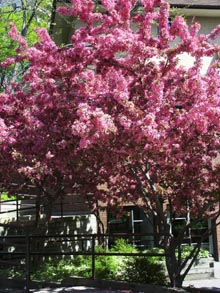 Spring at the Co-op Centre
"There is a strong sense of community at Oak Street. The Co-op treats its staff very well. That's why I love my job and have worked here all these years."

-Brynne, staff member
Living at Oak Street Co-op
A Co-op is as good as its Members
Members of the co-op have all expressed a willingness to be part of a diverse community and to participate in its success. The membership is made up of people from a variety of ethnic, cultural, lifestyle and economic backgrounds.
Because there is no landlord, the members run the co-op and make all the major decisions. All members, aged 16 and over, have equal voting rights. At the General Members Meetings, for example, elections may be held for positions on the Board of Directors, or the Annual Operating Budget may be ratified.
Members participate in various ways such as volunteering on co-op committees. Others show their commitment to the community by taking part in special projects, supervising children at play, planting beautiful gardens, picking-up litter and by otherwise being good neighbours.
Pets should be good neighbours too
The Co-op allows pets (dogs, cats, and animals in containers or cages) in reasonable numbers and in accordance with municipal by-laws. Dogs and cats must be spayed or neutered and must be leashed in common areas. Members are responsible for cleaning up after their pets.