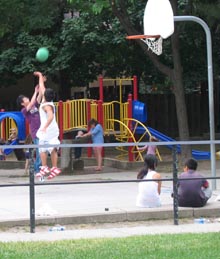 Basketball in the playground
"From the moment I moved into Oak Street I felt welcomed into a friendly neighbourhood. Coming home from a busy day in the big city, I relax as soon as I enter the courtyard. It's a wonderful, vibrant community and a great place to live."

-Molly, member
Location, Location, Location
Oak Street Co-op, just minutes from Toronto's downtown core, is located east of River Street between Dundas and Gerrard Streets. Visit our Contact page for a detailed map of the area.
The subway is easily accessible by streetcar, and the Don Valley Parkway is only moments away. For more information on public transportation, the Toronto Transit Commission (TTC) website has transit routes and schedules.
Oak Street Park, which includes a children's playground and a basketball court, is conveniently located next to the co-op. A variety store and a combination laundry-dry cleaner and video rental shop are on co-op property.
Close to nature
Close to the Don River Valley, the Co-op is within easy walking distance of Riverdale Park, the Riverdale Farm and the Lower Don bike and foot trail.
Community Resources